| | |
| --- | --- |
| TF Issue 187: Is it just me? Judge Dredd... | |
| | |
| --- | --- |
| | |
20-10-2011, 11:01 AM
Administrator

Join Date: Jan 2010

Location: Essex

Posts: 734
TF Issue 187: Is it just me? Judge Dredd...
---
On page 161 of TF issue 187, Andrew Lowry asks:
"Is it just me... or is Judge Dredd just fine?"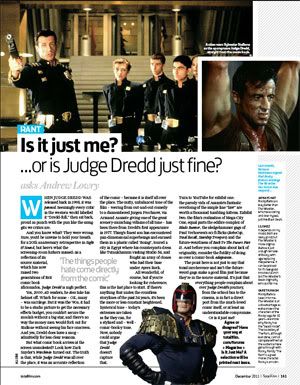 Here are a few excerpts:
When Judge Dredd was released back in 1995, it was panned. Seemingly every critic in the western world labelled it "Dredd-full," then sat back, proud as punch with the pun like the smug gits we critics are.

And you know what? They were wrong. Sure, you'd be unwise to hold your breath for a 20th anniversary retrospective in Sight & Sound, but here's what the screening-room lurkers missed: as a reflection of its source material, which has now raised two generations of Brit comic book aficionados, Judge Dredd is nigh perfect.

Yes, 2000 AD readers, he does take his helmet off. Which for some – OK, many – was sacrilege. But it was the '90s, it had to be a studio picture to get the necessary effects budget, you couldn't secure the moolah without a big star, and there's no way the money men would fork out for Stallone without seeing his face onscreen. And yes, Dredd does have a snog – admittedly for less clear reasons.
Check out the full article in Issue 187 - on sale 27 October 2011.
Agree? Disagree? Have your say below - a selection will be printed in the next issue...
20-10-2011, 11:21 AM
AKA Forum Weirdo, Honour Guard

Join Date: Sep 2010

Location: Scotland

Posts: 2,340
---
Stallone's Judge Dredd has always been a guilty pleasure of mine. It's up there with Demolition Man as a no-brainer sci-fi
action film. It's NOT Judge Dredd though. I think if I ever compared it too much to my favourite childhood comic character, then I would end up hating it. Stallone isn't playing Judge Dredd, he's playing Stallone and the differences between this and the source material allow me to distance them enough to enjoy the film as a seperate entity. The Karl Urban version seems to be sticking a lot closer to the feel of the comics, though so if they screw that up I won't be pleased.
__________________
Where's my cake, Bedelia?
20-10-2011, 11:33 AM
Old Guard

Join Date: Oct 2008

Location: Essex

Posts: 1,263
---
I agree with Jeffbiscuits, Stallones Dredd is not a bad film but it is not Judge Dredd just a no brainer sci-fi film. I am looking forward to the new version but I would rather have seen an unknown play the role of Dredd.
26-10-2011, 04:45 PM
Production Runner

Join Date: Sep 2011

Posts: 8
Barely above Get Carter.
---
I know this is a paradox, before I start, but for two reasons I can't comment on this one. 1. I haven't watched it through since I saw it at the cinema (Unfortunately in the days long before my monthly pass), and 2. In order to put valid points across, it would mean I'd have to sit through it again, which I'm not willing to do.
All I remember is that Rob Schneider was the most irritating I'd ever seen him.
31-10-2011, 09:21 AM
---
The Production design, costuming and music scoring are all spot on for a Judge Dredd film but the casting of Stallone was just an epic fail and the whole thing stands or falls on that. When he gets off the bike and mumbles 'I am the law' I didn't know whether to laugh or cry.

Rob Schnieder. Enough said.

The trailer is awesome though.

My fear for the new movie is that they've 'grunged' it up and it's directed by an anonymous shaky-cam hack and, as a result, will just blend in with the rest of the mediocre dross.
31-10-2011, 12:48 PM
Camera Operator

Join Date: Mar 2009

Posts: 143
---
It was an abomination. Stallone at his most slurry didn't help. The only thing they got right was the Mean Machine.
__________________
I've written a comic! It's really good - promise! Check it out
HERE
.
31-10-2011, 08:01 PM
One Post Wonder

Join Date: Sep 2010

Posts: 1
---
Yup I also agree with Jeffbiscuites .... a good enough stand alone film that is not really Judge Dredd. A classic case of ego over art though ...... cliched as it is ..... the helmet should never come off.......
31-10-2011, 10:36 PM
Production Runner

Join Date: Aug 2011

Posts: 11
---
Great? No.

Worth a slot on ITV2 late night when they can't justify another round of "The Mummy" franchise. Sure.

We all need a little action-adventure mental chewing gum. It's not gonna kick Capra and Park Chan-Wook off the top of my personal DVD chart, but there's nothing wrong with decent renditions of low-brow entertainment. For me, little separates this from Total Recall: kitsch, honest fun.

I loved the comics when I was a kid, and the film fed that nostalgia. It was never literature, it was escapism and so was the film. The ABC Warrior was pretty swish for its day and they picked a strong story from the comics to tease out. Stallone is wooden, but, hey, so's the impassive Dredd!
01-11-2011, 11:10 AM
Production Runner

Join Date: Sep 2011

Posts: 8
---
Call me a snob, but at the end of the day, 12 Angry Men has the same running time. I know what I'd rather be watching.
01-11-2011, 11:37 AM
Peewee Fourman

Join Date: Sep 2010

Posts: 4
---
not enough drokk, too much crud. looked nice though
| | |
| --- | --- |
| Posting Rules | |
All times are GMT +1. The time now is
08:46 AM
.