| | |
| --- | --- |
| He's Back (Arnie) | |
| | |
| --- | --- |
| | |
23-02-2011, 02:20 PM
Camera Operator

Join Date: Apr 2010

Posts: 98
He's Back (Arnie)
---
Arnold Shwarzenegger AKA Arnie AKA Arnholt

A couple of weeks ago the big guy posted on his Twitter account that he had instructed his team to seriously start considering film offers again

So then, he's back, as he promised he would be in his days as The Terminator.

What a perfect time then, to start a thread devoted to all things Arnie (I can't be the only fan on here!) What are your favourite Movies? Killer one liners?

I thought we had lost him to politics for good but maybe his cameo in The Expendables game him a taste for acting (!) again.

I would say an increased presence in any sequel to that movie is a must but what next? What would you like to see him doing now that he's back?

I want to see the character of Dutch resurrected for any further Predator films, and whilst we are at it - let's have a sequel to Commando with a now wheelchair bound Col. John Matrix dishing out Gunishment in typically OTT fashion.

American remake of Harry Brown anybody?
---
Last edited by snakeplissken; 23-02-2011 at

04:57 PM

.
23-02-2011, 02:29 PM
AKA Forum Weirdo, Honour Guard

Join Date: Sep 2010

Location: Scotland

Posts: 2,342
---
How about they cancel the 'redo' of Total Recall and make a straight sequel with Schwarzenegger as Doug Quaid, bitter Mars cab driver.
Wasn't he Dutch Schaeffer in Predator? Schultz was the guy who drew Peanuts.
23-02-2011, 04:56 PM
Camera Operator

Join Date: Apr 2010

Posts: 98
---
Haha, good spot Jeff my memory failed me there. He was indeed "Dutch" Schaefer, according to Wikipedia, first name Alan.
Also, the character Dillon's first name is George - so when Alan & George get together expect an 80's testosterone explosion...
With you on revisiting Mars, extremely worried about the presence of Colin Farrell in the remake...
23-02-2011, 05:26 PM
AKA Forum Weirdo, Honour Guard

Join Date: Sep 2010

Location: Scotland

Posts: 2,342
---
I only knew that because of the Predator comic where a predator comes after his brother(a cop in L.A.) and the brother heads off to the jungle to find out what happened to Dutch.
Alan and George vs the Alien Game Hunter would have been a whole different kind of film
More Abott and Costello.
I'm liking the idea of a thread devoted to all things Arnie. Like most guys in their 30s, I was raised on a steady intake of Schwarzenegger, Stallone, Van Damme, Lundgren, Norris and Russell.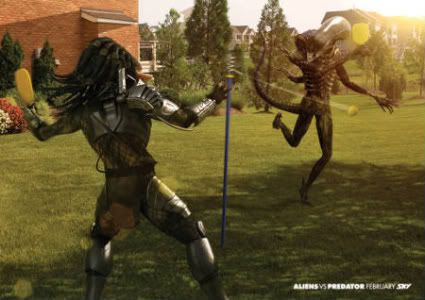 Sorry, I was looking for a cool Predator pic but among all the pics of a saggy looking man, I found this.
As long as he keeps his shirt on I'm all for a comeback.
23-02-2011, 08:28 PM
Film Loader

Join Date: Oct 2008

Location: Edinburgh

Posts: 80
---
I am a massive Arnie fan, so will definitely comment here. I love his films Predator, Total Recall, The Running Man, Terminator, T2 and True Lies. All timelessly entertaining films if you ask me and he kicks arse, has a great presence and like someone mentioned has excellent one liners. I would like to see him come out in a decent film again, I hated Collateral Damage, The 6th Day, T3 and I am going to make myself unpopular and say I hated The Expendables. I would love them to make another Terminator or Predator with him in the lead, but I doubt that would happen. I like the idea of a Harry Brown remake too.
23-02-2011, 11:47 PM
Old Guard

Join Date: Oct 2008

Location: Essex

Posts: 1,263
---
Love Arnie and I'm glad he is going to be back. Being in my early 40's I too grew up on his films and they have entertained me ever since. I would love to see a sequel to True Lies, a film that I can't wait for them to bring out on blu-ray.
23-02-2011, 11:59 PM
AKA Forum Weirdo, Honour Guard

Join Date: Sep 2010

Location: Scotland

Posts: 2,342
---
07-03-2011, 10:20 AM
Old Guard Cat

Join Date: Oct 2008

Location: Herts

Posts: 1,726
---
Quote:
Originally Posted by
Jeffbiscuits
He's currently considering fifteen roles including the obvious returns to Predator and Terminator.
| | |
| --- | --- |
| Posting Rules | |
All times are GMT +1. The time now is
07:22 PM
.