| | |
| --- | --- |
| TF Issue 194: Is It Just Me? Alien3... | |
29-04-2012, 04:40 PM
Administrator

Join Date: Jan 2010

Location: Essex

Posts: 734
TF Issue 194: Is It Just Me? Alien3...
---
On page 147 of TF issue 194, Andrew Lowry asks:
"Is it just me... or is Alien3 really a misunderstood masterpiece?"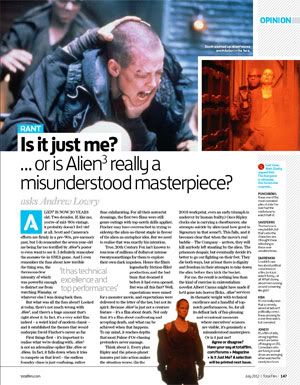 Here are a few excerpts:
Alien3 is now 20 years old. Two decades. If, like me, you're of mid-'80s vintage, it probably doesn't feel 'old' at all. Scott and Cameron's efforts are firmly in a pre-'90s, pre-memory past, but I do remember the seven-year-old me being far too terrified by Alien3's poster to even want to see it. I definitely remember the awesome tie-in SNES game. And I even remember the fuss about how terrible the thing was, the thermonuclear intensity of which was powerful enough to distract me from watching Wacaday, or whatever else I was doing back then.
But what was all the fuss about? Looked at today, there's not much wrong with Alien3, and there's a huge amount that's right about it. In fact, it's a very solid film indeed – a weird kind of modern classic – and it established the themes that would underpin David Fincher's career so far.
First things first – it's important to realise what we're dealing with. Alien3 is not an adrenaline-spiker like Alien or Aliens. In fact, it falls down when it tries to compete on that level – the endless foundry chase is just confusing, rather than exhilarating. For all their auteurist dressings, the first two films were still genre outings with top-notch skills applied. Fincher may have overreached in trying to sidestep the alien-as-threat staple in favour of the alien-as-metaphor idea. But we need to realise that was exactly his intention.
...
For me, the result is nothing less than the kind of exercise in existentialism novelist Albert Camus might have made if he'd gone into horror flicks. Alien3 services its thematic weight with technical excellence and a handful of topnotch performances. So, for all its defiant lack of fan-pleasing and occasional moments where executives' scissors are visible, it's genuinely a misunderstood masterpiece. Or is it just me?
Check out the full article in Issue 194 - on sale 11 May 2012.
Agree? Disagree? Have your say below - a selection will be printed in the next issue...
| | |
| --- | --- |
| Posting Rules | |
All times are GMT +1. The time now is
08:49 AM
.