| | |
| --- | --- |
| The Walking Dead | |
| | |
| --- | --- |
| | |
24-03-2012, 06:48 PM
AKA Friendly Neighbourhood Projectionist, Old Guard

Join Date: Jan 2012

Location: Walter Whites Meth lab

Posts: 287
---
Brilliant final. Loves the zombies chained up character even if it was for ten seconds
__________________
Follow me on twitter @uexpectme2talk. Word of warning I swear quite a bit :-)
25-03-2012, 08:58 PM
Administrator

Join Date: Jan 2010

Location: Essex

Posts: 734
---
26-03-2012, 11:26 AM
AKA Friendly Neighbourhood Projectionist, Old Guard

Join Date: Jan 2012

Location: Walter Whites Meth lab

Posts: 287
---
__________________
Follow me on twitter @uexpectme2talk. Word of warning I swear quite a bit :-)
---
Last edited by TheGuyver; 26-03-2012 at

11:29 AM

. Reason: found link
26-03-2012, 03:12 PM
Old Guard Cat

Join Date: Oct 2008

Location: Herts

Posts: 1,724
---
5 Reasons The Walking Dead Has to Get Better
makes some good points, some of which we've discussed on this thread. No spoilers as long as you've seen all of Season 2.
Quote:
Originally Posted by cracked.com
"I think it's finally time: I think The Walking Dead is finally going to pull it together. Because, by the time Season 2's finale wrapped, the group has made every unrealistically idiotic mistake possible and learned some retardedly obvious lessons -- like that burning zombies just makes burning zombies, gentle fields of grass aren't a great zombie deterrent and that you never trust the guy who suddenly and dramatically shaves his head in the bathroom. Finally, The Walking Dead has a solid premise, an interesting location, an impending conflict and characters with the beginnings of genuine arcs instead of repetitive dribbles. In short, it may have taken them 18 painful hours to do it, but TWD has finally caught up with the first 10 minutes of an ordinary zombie movie."
13-04-2012, 12:51 PM
---
I marathoned this recently and while I do love it, I couldn't help but feel that the Sophia plot line in season two was dragged out just a tad bit. But, god, when they found her, that was the most heart breaking scene for me.
17-04-2012, 12:00 AM
Production Runner

Join Date: Feb 2012

Posts: 31
---
@Welchy- Brilliant pics, Lori v broom is so funny. I find it so hard to like her.
19-04-2012, 04:39 PM
AKA Forum Weirdo, Honour Guard

Join Date: Sep 2010

Location: Scotland

Posts: 2,340
---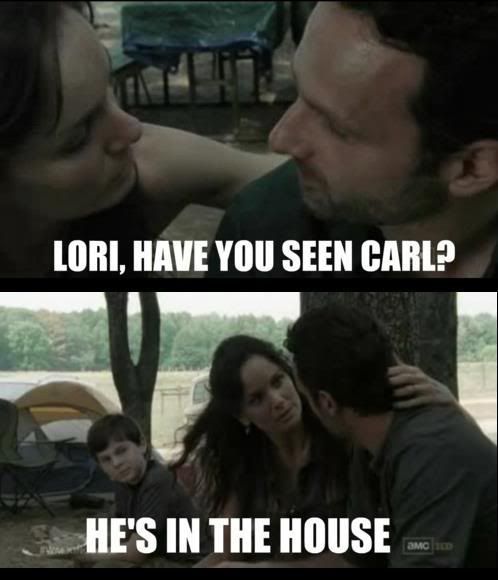 __________________
Where's my cake, Bedelia?
19-04-2012, 05:15 PM
Old Guard Cat

Join Date: Oct 2008

Location: Herts

Posts: 1,724
---
01-10-2012, 03:51 PM
Old Guard Cat

Join Date: Oct 2008

Location: Herts

Posts: 1,724
---
The Walking Dead returns Friday 19th Oct, 10pm
| | |
| --- | --- |
| Posting Rules | |
All times are GMT +1. The time now is
09:22 AM
.