| | |
| --- | --- |
| TF Issue 194: Is It Just Me? Alien3... | |
| | |
| --- | --- |
| | |
29-04-2012, 04:40 PM
Administrator

Join Date: Jan 2010

Location: Essex

Posts: 734
TF Issue 194: Is It Just Me? Alien3...
---
On page 147 of TF issue 194, Andrew Lowry asks:
"Is it just me... or is Alien3 really a misunderstood masterpiece?"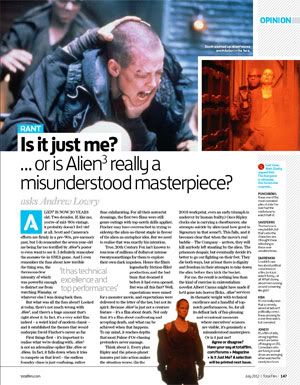 Here are a few excerpts:
Alien3 is now 20 years old. Two decades. If, like me, you're of mid-'80s vintage, it probably doesn't feel 'old' at all. Scott and Cameron's efforts are firmly in a pre-'90s, pre-memory past, but I do remember the seven-year-old me being far too terrified by Alien3's poster to even want to see it. I definitely remember the awesome tie-in SNES game. And I even remember the fuss about how terrible the thing was, the thermonuclear intensity of which was powerful enough to distract me from watching Wacaday, or whatever else I was doing back then.
But what was all the fuss about? Looked at today, there's not much wrong with Alien3, and there's a huge amount that's right about it. In fact, it's a very solid film indeed – a weird kind of modern classic – and it established the themes that would underpin David Fincher's career so far.
First things first – it's important to realise what we're dealing with. Alien3 is not an adrenaline-spiker like Alien or Aliens. In fact, it falls down when it tries to compete on that level – the endless foundry chase is just confusing, rather than exhilarating. For all their auteurist dressings, the first two films were still genre outings with top-notch skills applied. Fincher may have overreached in trying to sidestep the alien-as-threat staple in favour of the alien-as-metaphor idea. But we need to realise that was exactly his intention.
...
For me, the result is nothing less than the kind of exercise in existentialism novelist Albert Camus might have made if he'd gone into horror flicks. Alien3 services its thematic weight with technical excellence and a handful of topnotch performances. So, for all its defiant lack of fan-pleasing and occasional moments where executives' scissors are visible, it's genuinely a misunderstood masterpiece. Or is it just me?
Check out the full article in Issue 194 - on sale 11 May 2012.
Agree? Disagree? Have your say below - a selection will be printed in the next issue...
12-05-2012, 01:00 PM
One Post Wonder

Join Date: Mar 2012

Posts: 1
If it weren't an Alien film it would be much better loved...
---
i know i'll get slammed for this but it was Aliens that killed the franchise, not Alien 3. its one of my favourites but its strength is also its only weakness, its nothing like Alien. Alien was a straight up horror and Cameron deftly sidestepped the comparison by making an awesome thrill ride. nobody back then could have followed Cameron, so they had to go in another direction which would inevitably piss off the fans. 3 is not a perfect film by any means but it is provocative like an Alien film should be. i mean think about it, if someone else made another action type Alien movie after Cameron it would suffer far worse in comparison (at least in the long term).
12-05-2012, 05:40 PM
AKA Forum Weirdo, Honour Guard

Join Date: Sep 2010

Location: Scotland

Posts: 2,340
---
It could never match the first two films, but on it's own merits it gives most other sci fi films of the last 20 years a run for their money. It's bleak and depressing with a largely British cast. Kind of like Scum with a xenomorph. The director's cut improves the film a lot too. It isn't half as good as Alien or Aliens but I still love it. It's my favourite of Fincher's films.
__________________
Where's my cake, Bedelia?
13-05-2012, 04:44 PM
One Post Wonder

Join Date: Feb 2012

Posts: 1
---
All three are Brilliant in their own ways.

Alien is the slow burning,slow reveal masterful horror.

Aliens is fast and furious,an action film more than horror.

Alien 3 isn't horror or action, its about winding down,its
about issues people face in the face of death, its thoughtful in its symbolism/metaphorical stances, and for me a very reflective piece about life before the end. Alien and aliens IMO Cant touch alien 3 for the sheer depth of the issues it presents.David Fincher doesn't really make happy films, he deconstructs things down to their dirtiest,ugliest levels, and here on Alien 3,his first feature,of all the haunted,no-hope worlds he has created in other films, this is the bleakest. The film is the cinematic equivalent to a gravestone being pelted with rain. I think its brilliant. The first two films have hope on some levels, from the start of alien 3 to the end you are stripped of any optimism. Some people don't like that,some do. Its a great film for me. These lines sum up the whole film really.

Ripley "Its down there, in the basement.."
"we don't have a basement"
Ripley "..its a metaphor"

The Whole God/Bible/Disciple metaphor, brilliantly apparent in this scene -

Dillon: You're all gonna die. The only question is how you check out. Do you want it on your feet? Or on your f****' knees... begging? I ain't much for begging! Nobody ever gave me nothing! So I say *f*** that thing! Let's fight it!

The character of Golic .When he lets the alien back loose.Then kind of judas character. It asks do people with crazy beliefs/schizoid/religiousness loose their morality in their search for greatness? Will someone sacrifice everyone else to be one with a greater power, ie. the alien,the "dragon" as golic calls it,the god.

Golic: *Nobody can stop it!!!*


Golic: [Golic has just seen the alien kill Clemens] Magnificent!


Newt and Hicks Funeral -

Dillon: Why? Why are the innocent punished? Why the sacrifice? Why the pain? There aren't any promises. Nothing certain. Only that some get called, some get saved. She won't ever know the hardship and grief for those of us left behind. We commit these bodies to the void with a glad heart. For within each seed, there is a promise of a flower, and within each death, no matter how small, there's always a new life. A new beginning. Amen.

"Ripley,,think of all we can learn from it...its the chance of a lifetime, you must let me have it, its a magnificent speciman..." ---

the theme of greed, and what people will sacrifice to attain their trophies, ie. Weyland Yutani in then film,which in a way Fincher uses to represent movie execs and movie companies being the same, not wanting to let things go,wanting to make endless money from their treasure,their franchises...as im pretty sure they were pissed at his choice to make Ripley die. I know that sounds deep but i think Fincher was and still is ahead of his time.

It asks the question do bad people deserve to die?, do good people deserve to live?, all the characters are pretty much scum,but can scum be rehabilitated?? do they care about others? can they change? Does god punish people?,or does faith work ? --

Andrews: We're 25 prisoners in this facility. All double-Y chromos. All thieves, rapists, murderers, child-molesters. All scum. Just because they have taken on religion doesn't make them any less dangerous. I try not to offend their convictions. I don't want to upset the order. I don't want ripples in the water.

The alien isnt really used as a horror beast/monster, it is used as a utility for metaphors throughout the film.

And Adagio by Elliot Goldenthall is the best piece of music for the entire series.
---
Last edited by FBRIrving; 13-05-2012 at

05:25 PM

.
15-05-2012, 11:07 AM
One Post Wonder

Join Date: May 2012

Posts: 1
In my opinion, better than Aliens
---
I read a review a while back by a member of the public concerning Aliens, and what they said, I realised, was the truth. In ALIEN, the Xenomorph is described as "the perfect organism" whose "structural perfection is matched only by its hostility." Indeed in the first film, that is what it seems to be: a virtually un-killable creature. Then Aliens comes along, and the Xenomorph merely becomes a bug to be shot with a couple of bullets, and then die.

Alien 3 returns to the idea of an un-killable creature. Not even dumping molten lead on top of it is enough to kill it. That for me is one of the most important ideas in the Alien saga. And though Alien 3 may not be as suspenseful as the first film, there are plenty of other good factors.
The acting is brilliant, filled with some great British actors such as Charles Dance (Clemens); Paul McGann - of Doctor Who fame - plays an excellent lunatic in the form of Golic; Ralph Brown (Aaron "85"); the late, great Pete Postlethwaite (David); and my probably my favourite, Danny Webb as Morse (his snigger, and shouting "oh f*** you" to one of the Company guards at the end is one of the best moments). From the across the pond, Sigourney Weaver, Lance Henriksen, and Charles Dutton put on great performances too.

As already mentioned, the musicical score for the movie was excellent. I don't often specifically notice the background music, but Alien 3 is one of the few films in which I did notice, and it is great; epic and chilling, and in some ways quite solemn.

The storyline is also fantastic. It has been said that the way Hicks and Newt were killed off in Alien 3 was a betrayal. James Cameron has also said that he imagined Ripley, Hicks, and Newt to return to Earth and be a family. But one of the things filmmakers and reviewers must realise is that a franchise like Alien is not destined to have a happy ending. I believe that the way Alien 3 ended (preferably the special edition version, where the queen does not burst out prior to her falling into the furnace) would have been a perfect end to the franchise. The Company had lost its chance to claim a Xenomorph, Ripley had escaped the monster which had plagued her mind since the first film, and everything was brought to a close. The way the original message, spoken by Ripley at the end of the first film, is replayed at the end of Alien 3 was a brilliant way to end.

But then along came Alien: Resurrection, in itself a fairly decent movie (a good idea, but badly made), but it has once again left the franchise on a frustrating cliff-hanger, one which has yet to be rounded off. If an Alien 5 is ever made (I myself, being a budding Science-Fiction writer, have planned a sequel, though I am waiting for Prometheus to arrive so I can get the backstory accurate), then I hope it can give the series a fitting end, just as Alien 3 did.
---
Last edited by Corack252; 15-05-2012 at

11:19 AM

.
19-05-2012, 01:05 PM
Precisely Thrice

Join Date: May 2012

Posts: 3
---
It managed to kill the series off within the first five minutes then rubbed further salt into fans' wounds with a shonky CGI alien, some laughable acting and a bunch of characters nobody gave a toss about. I personally refuse to acknowledge the existence of anything that came after Aliens and I know I'm far from the only one...
19-05-2012, 01:31 PM
Old Guard Cat

Join Date: Oct 2008

Location: Herts

Posts: 1,724
---
20-05-2012, 01:09 PM
---
I agree with this one. Alien 3 is a great film, even more so in the extended cut. Fincher's visual style and the mood are exceptional.

I'm paraphrasing here but Jim Cameron described them best;

One is a Haunted House movie in Space, two is Vietnam in Space, Three is the long dark night of the soul and four is the one with the crap monster.
22-05-2012, 08:41 AM
Production Runner

Join Date: Oct 2008

Posts: 13
Good...but could have been better...
---
I like Alien3. It was the first 18 rated film my mum let me have (I think I was 14 at the time). I will always have a soft spot for it, but I also think the movie could have done so much more - asked more of its audience. Why kill Newt and Hicks in the crash? Why not let them live for a bit. On a planet of criminals, let one of them rape and kill Newt, causing Ripley and Hicks untold distress. Have the alien appear and kill Hicks as he defends Ripley (a heroic death for a beloved character). Then force Ripley into the difficult choice of going down without a fight, or teaming up with the criminals that raped and murdered Newt (her surrogate daughter) in order to survive.
22-05-2012, 09:43 AM
One Post Wonder

Join Date: May 2012

Posts: 1
Alien 3: the most profound film in the franchise
---
'Alien 3' is a masterpiece. Its bleak set, plot, and action capture the futility of so much in life. Glimmers of humanity shine against this gloomy background with an almost spiritual potency. For me, the film's crowning moment is when Ripley - literally - looks her demon in its face. "You've been in my life so long", she says, "I can't remember anything else". It's an achingly beautiful instant of fear transmuted into weary resignation; anyone who has ever lived with mental illness or addiction will recognise precisely the poignancy of that moment.
| | |
| --- | --- |
| Posting Rules | |
All times are GMT +1. The time now is
09:37 AM
.