| | |
| --- | --- |
| TF Issue 196: Is It Just Me? Trailers too revealing... | |
| | |
| --- | --- |
| | |
26-06-2012, 11:13 AM
Administrator

Join Date: Jan 2010

Location: Essex

Posts: 734
TF Issue 196: Is It Just Me? Trailers too revealing...
---
On page 145 of TF issue 196, Kevin Harley asks:
"Is it just me... or are trailers too revealing?"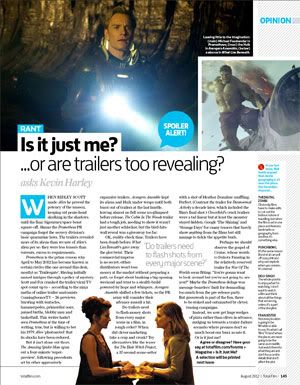 Here are a few excerpts:
When Ridley Scott made Alien he proved the potency of the unseen, keeping old penis-head skulking in the shadows until the final Sigourney/space beast square-off. Shame the Prometheus PR campaign forgot the secrecy division's basic quarantine laws. The trailers revealed more of its aliens than we saw of Alien's alien per se: they were less teasers than torrents, excess to requirements.
Prometheus is the prime reason why April to May 2012 has become known in certain circles (the one around this desk, mostly) as 'Trailergate'. Having initially maxed intrigue through a policy of mystery, Scott and Fox cranked the trailer/viral/TV spot count up to – according to the ninja maths of online trailer anatomists ComingSoonerTV – 26 previews bursting with tentacles, hammerpedes, primordial ooze, pained births, blobby men and basketball. This writer hadn't seen Prometheus at the time of writing, true, but is willing to bet his 1979 Alien 'photonovel' that its shocks have been reduced...
...
...Perhaps we should observe the gospel of Cruise, whose words to Dakota Fanning in the relatively reserved trailer for War Of The Worlds seem fitting: "You're gonna want to look around but you're not going to, are you?" Maybe the Prometheus deluge was message-boarders' fault for demanding too much from the pre-release party. But guesswork is part of the fun, there to be stoked and outsmarted by clever, teasing campaigns.
Instead, we now get huge wedges of pizza rather than olives in advance, nudging us towards a trailer-failure scenario where promos don't so much boost our buzz as sate it. Or is it just me?
Check out the full article in Issue 196 - on sale 6 July 2012.
Agree? Disagree? Have your say below - a selection will be printed in the next issue...
05-07-2012, 05:10 PM
One Post Wonder

Join Date: Oct 2008

Posts: 1
Agree!
---
Trailers give far too much away and I've stopped watching them unless I'm at the cinema and happen to see them, but even then there are times I will avoid like the other day when I clamped my eyes shut for two and a half minutes, so as not to see The Dark Knight Rises trailer.

The problem I have is that they always show you something from the final third of a film and you're sitting watching and suddenly you remember you've not seen that bit from the trailer and it starts to nag away a little until it comes to the climax and the bit you've seen is actually something major to the film.

I think there should be some rule that limits what a company can put in a trailer like nothing from the last 45 minutes of a film or something. Something has to change because often it can become a waste of time actually watching a film when the trailer gives you all the necessary information.
05-07-2012, 05:29 PM
AKA Forum Weirdo, Honour Guard

Join Date: Sep 2010

Location: Scotland

Posts: 2,339
---
I don't usually like to complain about trailers. They're the main way that a studio will sell a film to potential viewers. The best way to sell something is to show what's good about it. The only way to completely bypass the spoiler issue would be for directors to go the viral route and film separate footage solely for the trailer. I love watching trailers though. Seeing the Prometheus one made me the most excited I've been about a film in years.
__________________
Where's my cake, Bedelia?
06-07-2012, 11:19 AM
Dark Horse Moderator

Join Date: Oct 2008

Posts: 658
---
Some modern trailers do reveal far too much. I've seen trailers which reveal almost every key moment, briefly, but the damage is done and the element of surprise may be lost. More thought needs to go into making trailers a tease and establishing the atmosphere and feel of the film rather than revealing its most pivotal or dramatic moments.
06-07-2012, 11:53 AM
Best Looking Moderator

Join Date: Oct 2008

Location: still in front of the fire with a single malt

Posts: 626
---
Quite often films will show all their 'best bits', so you go to watch the film, full of excitement, expecting to be entertained to the max, then you realise that everything that wasn't in the trailer is a complete load of wank.
__________________
"He may look like an idiot and talk like an idiot but don't let that fool you. He really is an idiot."
06-07-2012, 03:48 PM
Old Guard

Join Date: Oct 2008

Location: Essex

Posts: 1,263
---
The Terminator Salvation trailer was ridiculously revealing, showing the key scene of the film.
06-07-2012, 04:58 PM
AKA Forum Weirdo, Honour Guard

Join Date: Sep 2010

Location: Scotland

Posts: 2,339
---
You're saying it was the trailer that spoiled Terminator Salvation for you?
__________________
Where's my cake, Bedelia?
06-07-2012, 06:01 PM
Old Guard Cat

Join Date: Oct 2008

Location: Herts

Posts: 1,724
---
It was a mistake showing the alien ship crashing in Prometheus trailer and posters. Big giveaway. But then most people seem to think Prometheus itself was a mistake.
06-07-2012, 08:47 PM
Old Guard

Join Date: Feb 2010

Location: Edinburgh

Posts: 646
---
Trailers than include scenes that don't make the final film are annoying.
09-07-2012, 03:35 PM
Two Post Tit

Join Date: May 2009

Posts: 2
Are trailers too revealing?
---
Trailers, tv spots, viral material. So much promotional material for certain movies seems to give a drip feed of the whole movie plot/sequence to the extent that a hell of a lot can be predicted once you are in the theatre. How long will the tense build up to the stadium scene in the Dark Knight be?

I have gone out of my way to avoid material for Prometheus, Spiderman and anything Dark Knighty for a long time now.
I watched the Alex Cross trailer lately and I strongly advise you (not) to have a look at it. I think the whole story is in there, in sequence, including the ending. Is there a correlation between trailer material and box office takings for anything other than blockbusters. I will certainly not be paying cinema prices to see Alex Cross.
| | |
| --- | --- |
| Posting Rules | |
All times are GMT +1. The time now is
09:30 AM
.