Total Film magazine issue 219 is all about the Massive Epic Movie Preview - your essential guide to all the mega-movies coming your way.
Inside the issue, we get exclusive access to Maleficent, the magical epic starring Angelina Jolie that could just be 'Disney's version of the Dark Knight'.
Plus we get the lowdown on Godzilla, Sabotage, Guardians of the Galaxy, Interstellar and more.
If that wasn't enough, Andy Serkis talks Dawn of the Planet of the Apes, Wally Pfister talks Transcendence, and our amazing TF Interview is with none other than mega-star Nicolas Cage.
Total Film 219 is available at all good newsagents now (and you can order the issue online here).
For a runthrough of all the amazing features in the magazine (and a look at both amazing covers), just scroll below...
Read a summary of the key features of the brand new interactive edition of Total Film.
Your favourite film magazine has come to life on Google Play. Download Total Film today and enjoy it anywhere you go on any Android phone or tablet.
THE ISSUE
---
IN THE ISSUE THIS MONTH...
AVENGERS: AGE OF ULTRON
So Avengers: Age of Ultron is going to be a bit amazing, isn't it?
THE MASSIVE EPIC MOVIE PREVIEW!
Angelina Jolie gets dark and fantastical for what could just be a spectacular Disney villain reimagining...
GODZILLA!
If Godzilla isn't the biggest, baddest blockbuster of the year, we'll eat our hats.
ARNIE!
Here's an approximation of your enjoyment before, during and after reading our new Arnie feature.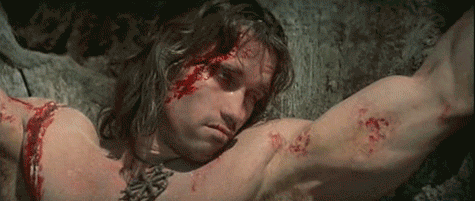 THE TOTAL FILM INTERVIEW: NICOLAS CAGE
Our in-depth mega-interview of the month comes courtesy of the brilliant Nicolas Cage.
CINEMA & HOME ENTERTAINMENT REVIEWS
Reviewed this issue - Sabotage, Locke, Captain America: The Winter Soldier and many more.